Have you seen our line of Cupcake and Dessert towers yet? You probably have because I talk about them, use them and post photos of them constantly. Like here. And here. And here. And againhere. Oh here, too. And probably a few other times but I'll stop. The reason I talk about them so much is because I'm truly excited about this product. They're versatile (use as many or as little tiers as you like for different size gatherings, dress it up to suit any holiday or occasion), they're re-usable and sturdy, unlike many cardboard towers, and lots more. I could go on! But I'll get to the point.
We've re-vamped the design of the Flower Towers, and we have one left over in the old discontinued style. So, we're giving it away to one lucky reader! Check it out: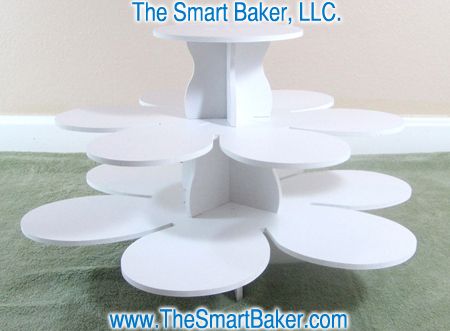 Along with the tower, we're giving away one of our NEW Tower Storage and Carrying Bags. It is big enough to hold your The Smart Baker Cupcake Tower and has pockets for storage of all support and base pieces. Its handles make transporting your Cupcake Tower to different events a quick and easy task!