And the prizes up for grabs this time are truely super awesome! There will be 3 winners and here is what your looking at!

The 1st Prize is:





A $100.00 e-gift Certificate from Ax Tackle, 4 handcrafted Fishing Rigs from WDSTK3 Handcrafted Fishing Lures, and 1 handcrafted Fishing Rig from Fish Bones Custom Lures! Ax Tackle has a large variety of Fishing and Camping Gear and this e-gift certificate can be used for anything in the store! The Fishing Rigs can be used for...well, catching fish of couse! Like this one :)


That is a 15 inch German Brown caught in the Spokane River below the 9 Mile Dam with one of WDSTK3's custom Rigs!



The 2nd Prize is: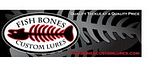 A $50.00 Gift Card to Cabelas, 4 more handcrafted fishing lures from WDSTK 3and another Fishing Rig fromFish Bones!

The 3rd and best prize of all is:

4 handcrafted Fishing Lures from WDSTK3, 1 Fishing Lure from Fish Bones, and the extremely coveted Coupon Posse' Bumper Sticker! We know, HOT!

Enter Here:
The Coupon Posse': Let's Go Fishing: Giveaway for the Fishing Posse'!...